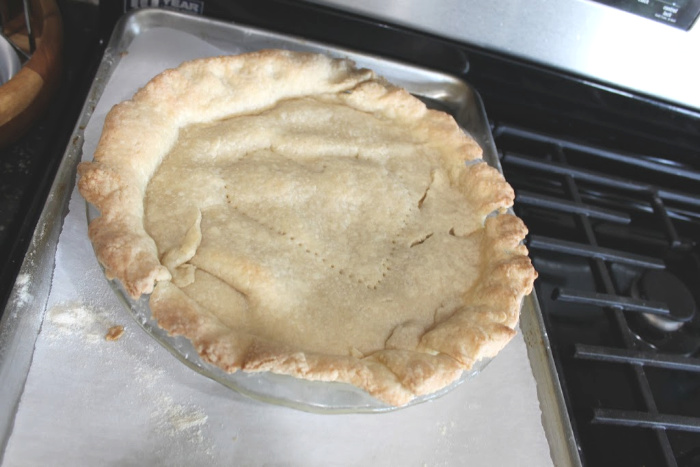 There is nothing more comforting than a hot meal on a cold winter day! This simple, healthy chicken pot pie will warm your belly and feed your soul! If your kids are like my boys, your family will have big smiles when they see you pulling the ingredients together!
Here's what you'll need
This post may contain affiliate links. If you click on one of my affiliate links and make a purchase, I may receive a commission for referring you. This comes at no additional cost to you.
First, you'll need to gather your ingredients. You will need cooked and chopped chicken breast, chicken broth, sweet onion, mixed frozen vegetables, heavy whipping cream, butter, flour, Thyme, pepper, Himalayan Sea Salt and two pie crusts.
Also, grab a stock pot, two pie dishes, wooden spoon, a rolling pin, two cookie sheets, and parchment paper.
Let's get cooking
Start off by melting the butter on medium heat in the stock pot. Be careful to keep the butter moving as not to brown.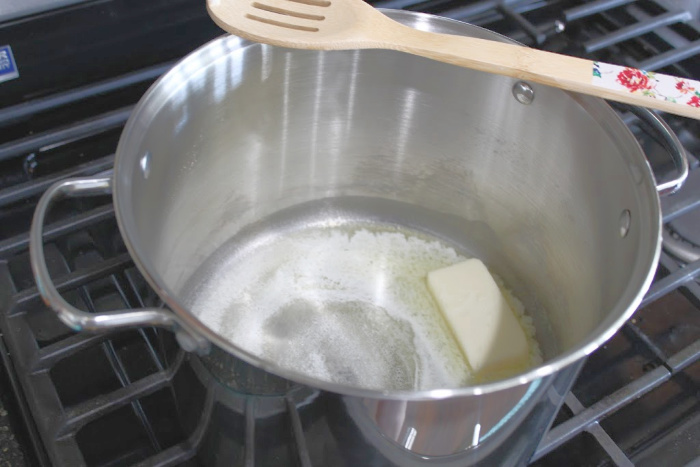 Next, add the onions to the butter. Saute until the onions are translucent.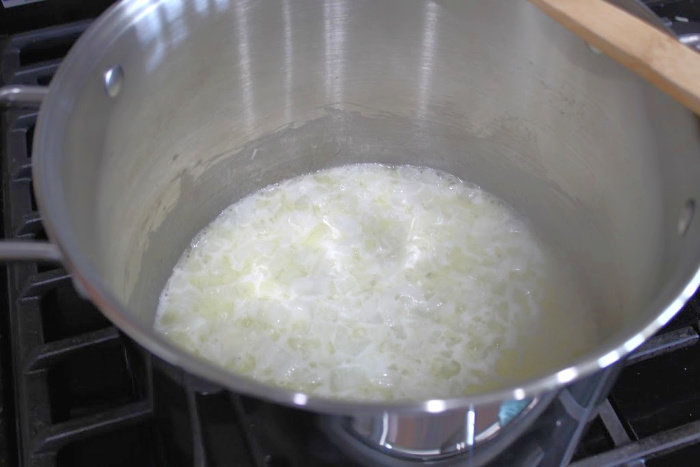 Once the onions are ready add in the frozen mixed vegetables. We prefer a mix of peas, carrots, and corn. Mix them with the onions until warm.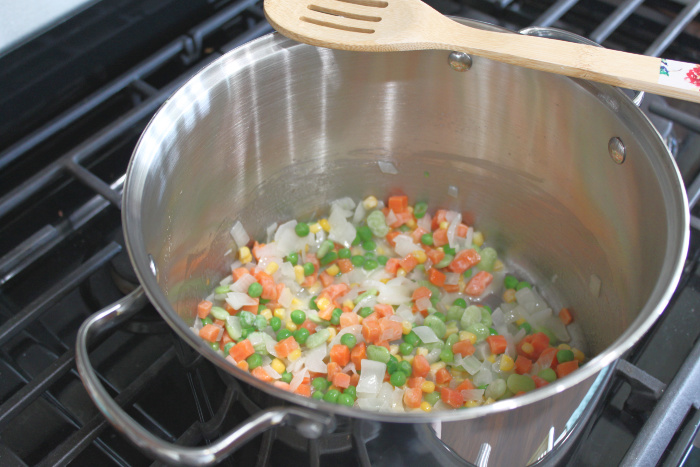 After that, add in the chopped, cooked chicken breast. Mix thoroughly with the vegetables.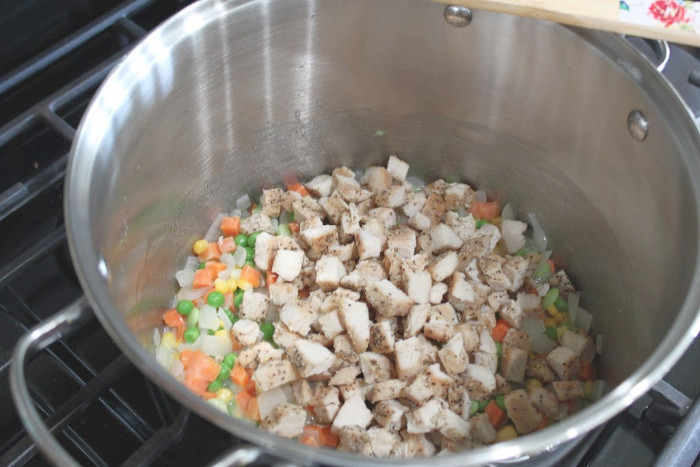 Now that the chicken and veggies are mixed well cover with the flour. Stir and make sure the flour has coated everything well.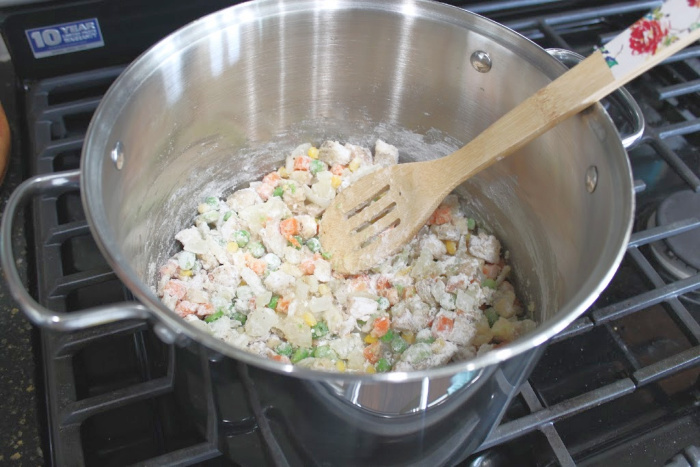 Next, pour in the chicken broth. Stir well. This is the start to the gravy.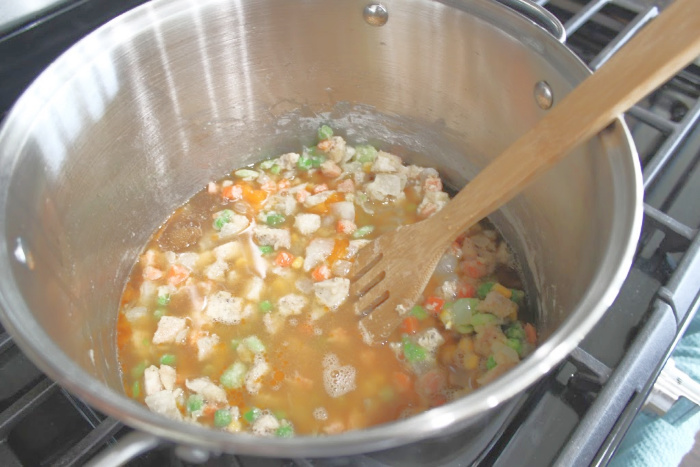 Finally, pour in the heavy cream. Stir until everything is mixed well.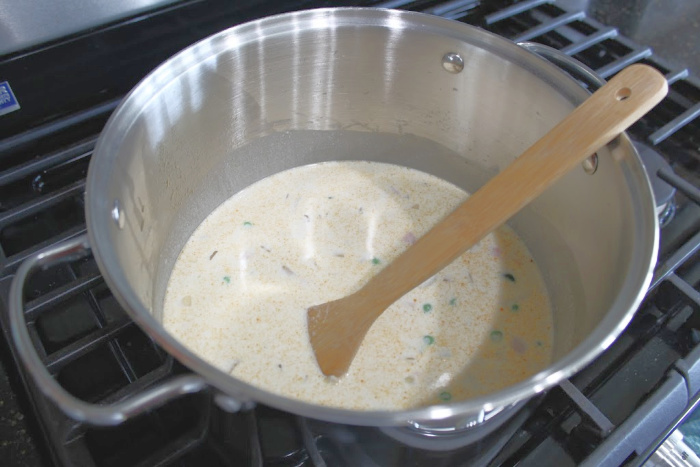 Now is the time to add in your seasoning. Sprinkle in the Thyme, Himalayan Sea Salt, and pepper to taste. Don't be stingy, spices are so important to the flavor.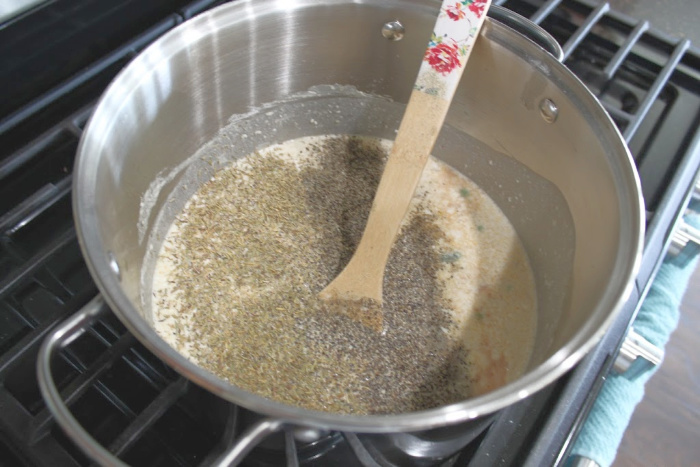 Stir over medium heat until the mixture has thickened. It should be about an oatmeal consistency. If it is too thin add more flour and continue stirring.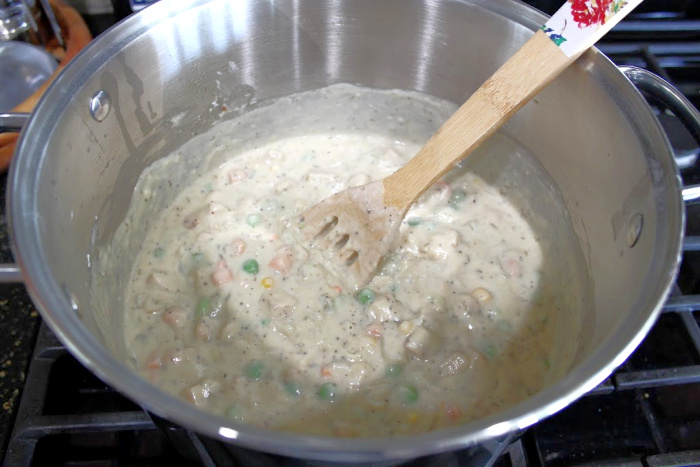 Putting the Pie Together!
Now it's time to get the pie crusts ready. Roll them out to be larger than your pie dish and set aside on the parchment paper.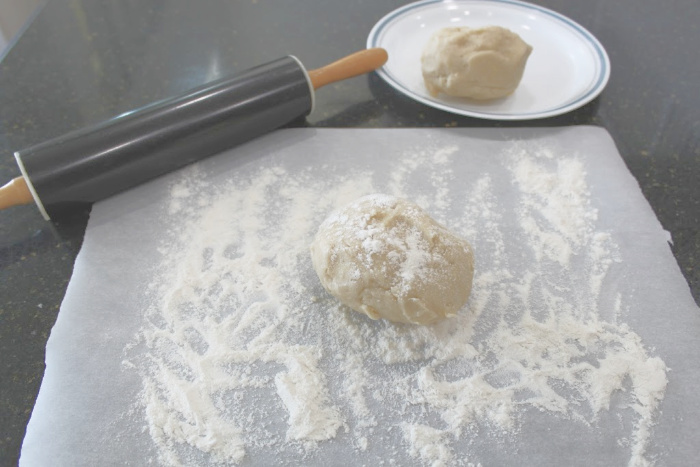 Fill each pie dish with half of the chicken pot pie filling from your stock pot.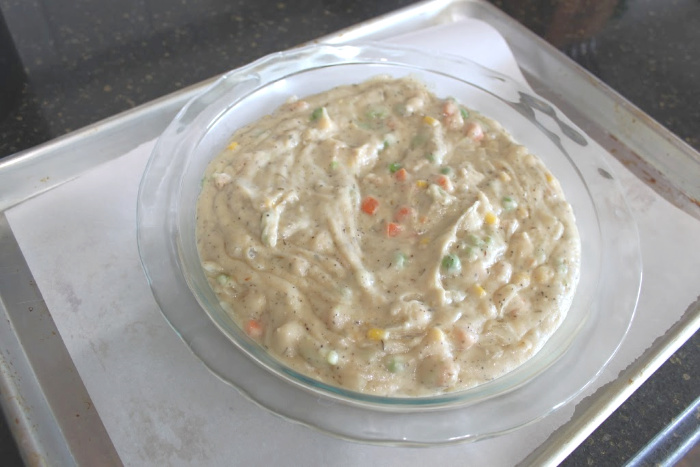 Next, roll up the pie crust with the parchment paper and place it on top of the pie dish and filling. I am no expert pie crust designer, so my crust looks pretty rustic. I tuck under the extra crust and pinch the edges to make it a little prettier. I always use a fork to make a heart on top.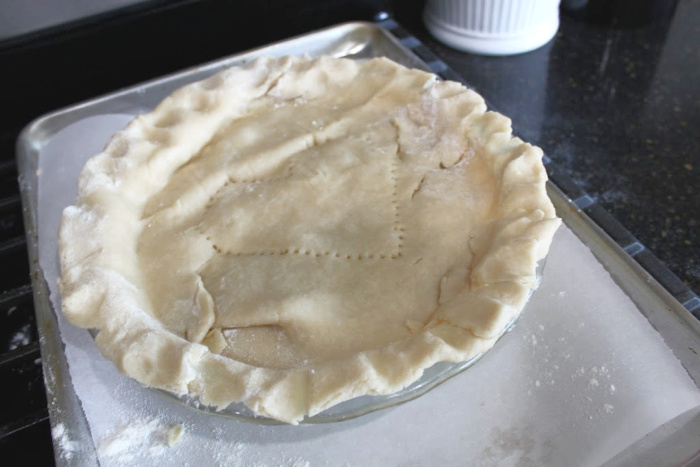 Bake in an oven at 350*F for 30 minutes or until the crust is golden brown. Allow to set for a few minutes before serving.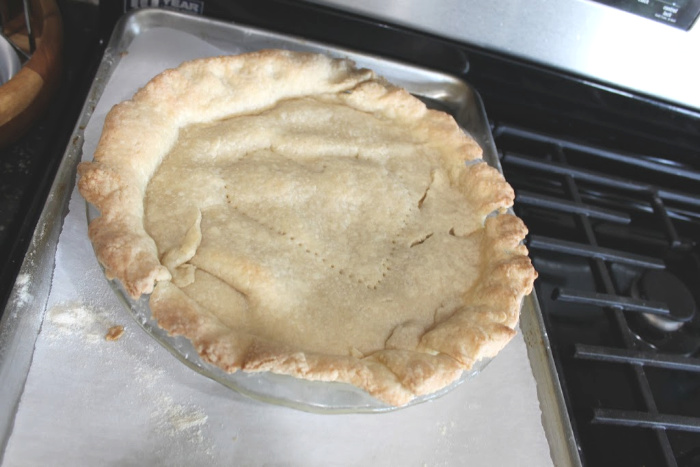 Enjoy!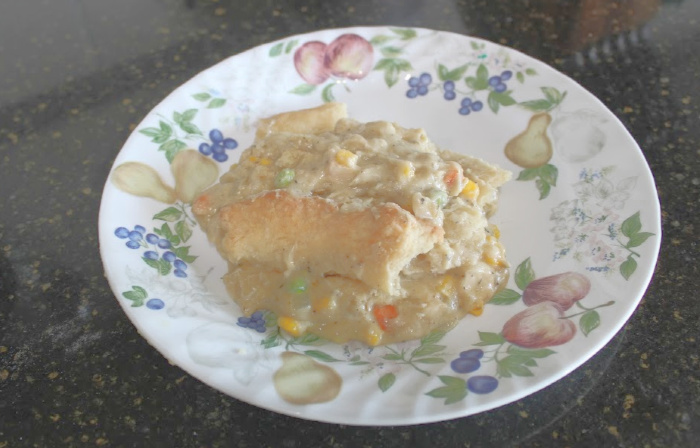 If you're looking for a yummy dessert to go with your Chicken Pot Pie, go check out my Peanut Butter Oatmeal Cookies. You won't regret it!
Pin it for Later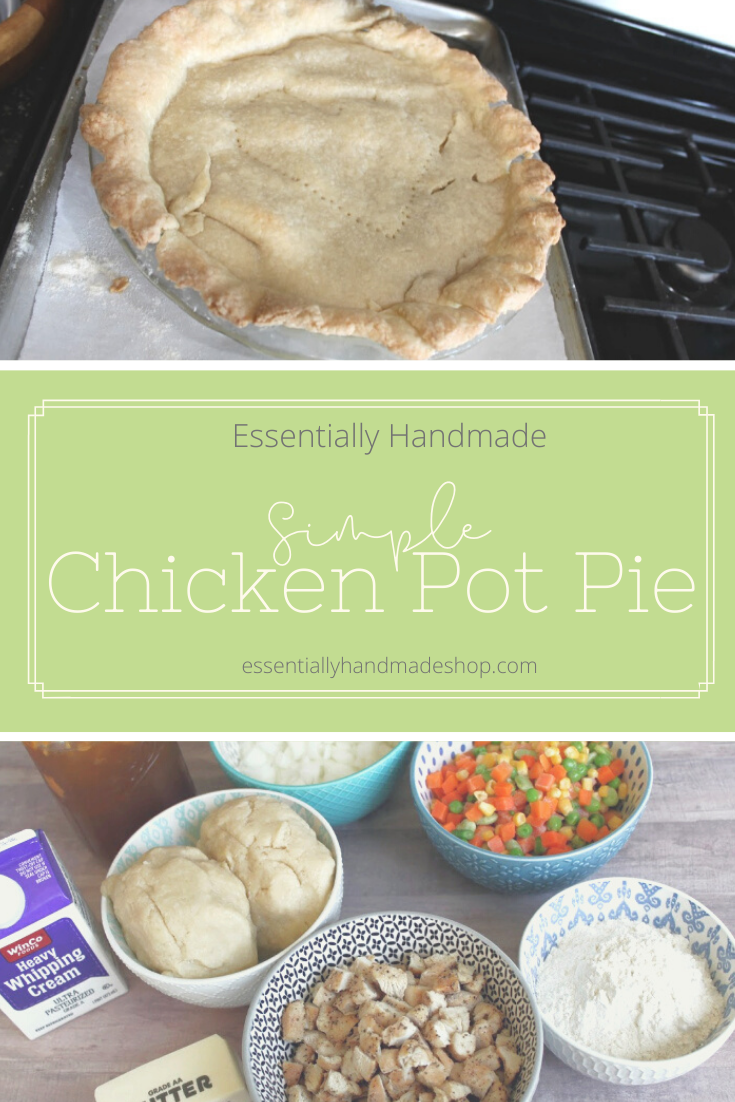 Print the Recipe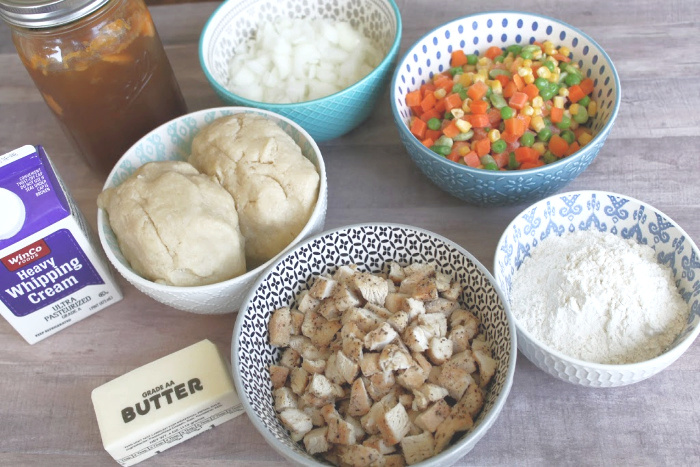 Simple Healthy Chicken Pot Pie
Ingredients
1/2

cup

butter

1

sweet onion- chopped

2

chicken breasts- cooked and chopped

2

cups

mixed frozen vegetables

3

cups

chicken broth

2

cups

heavy cream

1

cup

flour

2

pie crusts

1

tbs

thyme

1

tsp

pepper

1

tsp

Himalayan Sea Salt
Instructions
Melt Butter. Add onions and saute until translucent.

Add in frozen vegetables. Mix until heated through.

Add in chopped chicken breast. Mix thoroughly with vegetables.

Pour flour over mixture and coat well.

Pour in chicken broth and stir.

Pour in heavy cream and stir again.

Add spices and continue mixing until thickens to oatmeal consistency.

Prepare pie crusts by rolling out to diameter greater than the pie dishes.

Pour half of the chicken pot pie filling into each pie dish

Cover with pie crust and tuck in edges. Pinch edges and pierce top for venting.

Cook on a parchment lined cookie sheet at 350*F for 30 minutes or until golden brown.

Remove from oven and let sit for a few minutes.