If you've ever wondered what you need to get started with sewing read on for my must have sewing tools! These tools are so important to my sewing I have packed them up to carry from California to Texas and back again more times than I'd like to count.
This post may contain affiliate links. If you click on one of my affiliate links and make a purchase, I may receive a commission for referring you. This comes at no additional cost to you.
My Sewing Machine
I am in love with my current sewing machine. First because it was a gift and second because of the heart behind the purchase. My Janome Memory Craft 6500 was purchased to help me build my business and keep up with the demands hours of sewing puts on a machine. My mom and my grandma knew a good machine would make working on big projects a joy.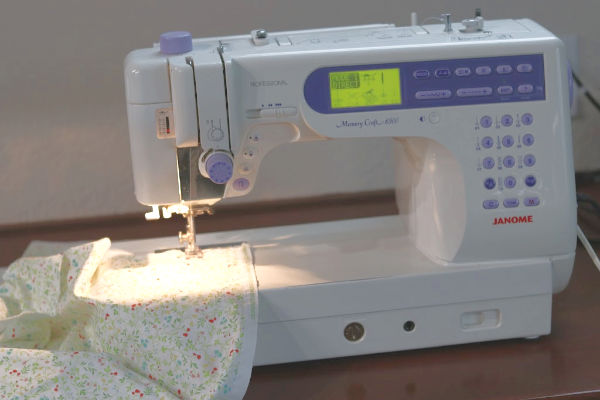 This machine was the second machine I have had in my 21 years of sewing. I bought a simple Kenmore machine to get started on my sewing journey. It helped me make curtains, Halloween costumes, baby gifts, and it was the machine I used to start my shop! I finally wore out the gears inside from overuse and had to move up to the heavier duty machine.
Next year I am planning on purchasing this simple Janome as a backup for my main machine. I think it is a great option for someone new to sewing. It has all of the stitches I use on a regular basis and I know Janome builds quality machines.
Pins and Needles
Just like having a good machine is important so is having good machine needles. Your needle choice will generally depend on what type of fabric you're using for your project. I have found that Schmetz makes quality needles for any of my project needs. 99% of my sewing is with a cotton quilting weight fabric, so I prefer a Microtex Sharp Needle. I like the slim design and the small punctures these needles make in my pouches. I recommend you change your needles often. You will save yourself a lot of frustration if you keep a sharp needle in your machine.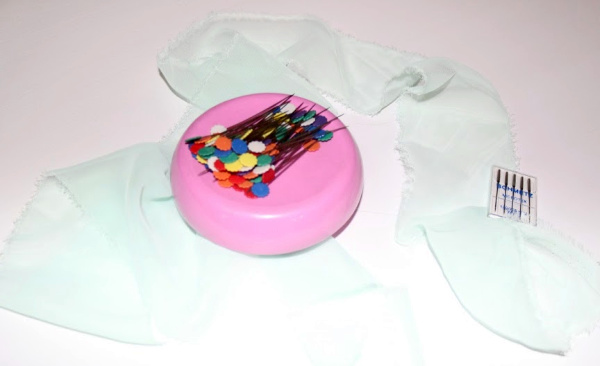 Pins are super important when working on most projects. I have learned from a lot of trial and error that flat straight pins are your best friend! Flat pins stay out of the way and don't cause unwanted bulk as you're moving around your project. Make sure you remove the needles before they get under your sewing machine needle. This will save you from bending your pins and possibly breaking your machine needle. That can be dangerous and bad for your machine.
Keeping your pins contained is super important. You don't want to have pins on the ground! My favorite way to keep my pins is a magnetic holder. I keep it next to my machine and drop the pins onto it as I sew.
Scissors
If you are going to splurge on something I say splurge on great scissors! I am a huge fan of Gingher scissors. I have four different pairs! My collection is made up of trusty Stork thread trimming pair, an 8″ dressmaker pair, a pair of pinking shears, and my classic 4″ embroidery scissors. They never leave my sewing area. My family has been trained to use them for fabric only! They are super sharp and will last you for decades! Take them to be sharpened at your discretion and they will be good as new!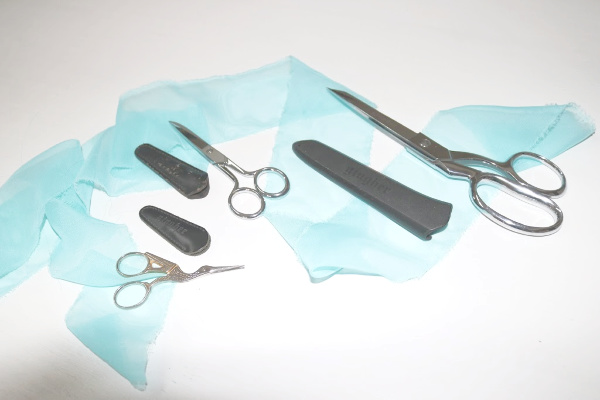 Cutting
Another must have is a good rotary cutter. If you want smooth straight cuts of fabric, grab a rotary cutter. I have used a Fiskars rotary cutter for the last 10 years. I love that I can cut quickly and accurately. It is a huge time saver when you're working on big projects. After using the rotary cutter on several projects, you'll need to replace the blade. Use coupons or watch for sales to affordably replace the blades.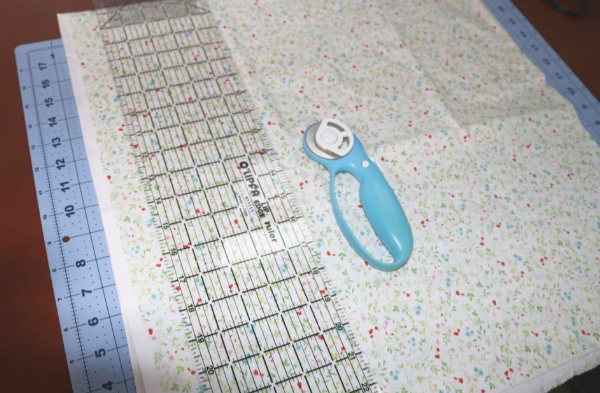 Next, you'll need a cutting mat. I have a couple of different sizes. One is an entire table top. It is perfect for larger projects, like aprons! I also use a 18″ x 24″ cutting mat. This size is great for most of my projects and it is stored away easily. Both mats have measuring grids on them to help you keep all of your cutting just right.
Finally, the most important tool for cutting straight lines is a quilter's ruler with a lip edge. Game changer! The ruler hooks onto the edge of the cutting mat and keeps the rotary cutter on track. I recommend you get at least a 24″ long ruler. I have a 36″ as well as the 24″. Your cutting will be straight and quick with one of these rulers.
Odds and Ends
There is a lot of debate about thread. You can go crazy looking at all the options in the fabric store! What I've learned is my needles being sharp is the most important part of getting nice stitches. With that being said I use Coats and Clark cotton thread on all of my projects. You can pick it up anywhere! It is a tried and true brand. No nonsense and no fluff and it is very affordable.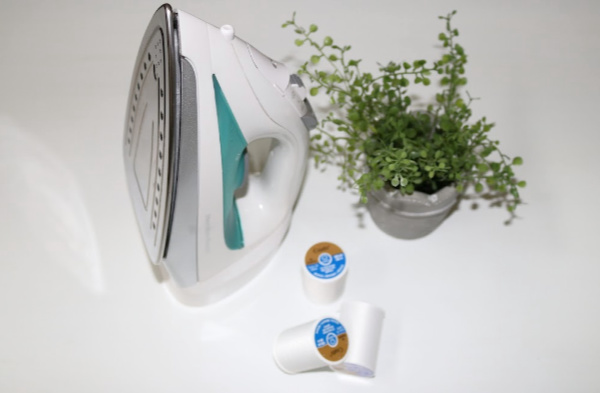 Having an iron is a must when you are sewing! You want to have crisp fabric when you are sewing and you want to be able to press your projects when you have finished. Getting a nice iron doesn't have to be expensive. I have used high end irons and simple department store irons. I have to say I actually prefer the less expensive irons. They get the job done and don't break the bank! Currently I use a Hamilton Beach with a stainless steel plate. Simple, but very effective.
Just Start
Getting started with sewing doesn't have to be crazy expensive. If you're on a budget look for gear second hand. I have found quilter's rulers, machines, and sewing baskets full of accessories in thrift stores. You don't need to have everything at once to get started. A sewing machine, thread, and scissors will be enough to get you creating!
Pin it for Later